Stump Grinding in Staten Island:
Stump grinding is the use of a stump grinder machine to remove the end of a stump. Depending on the size of the tree, a stump can me difficult to remove. After a tree is removed, clients can chose to remove a stump or leave it. Most of the time, clients opt to stump grinding.
Removing a stump allows for space in a yard. Whether you want to add a patio or swing set. Also, a stump pointing out of the ground can pose a threat to anyone walking by. Children playing or even adults can trip if there is flat ground and then a stump sticking out.
Especially if the stump is located behind a house that does not have access room for a stump grinder machine to fit through. If that is the case a tree arborist will have to use a chain saw to put cuts in the remaining stump. After, he adds chemicals that will help disintegrate the stump.
Stump Grinding Costs
The cost of stump grinding depends on the width and length. Also, we warn customers that price can change depending on the roots. Sometimes roots are so thick and tangled it can take even longer for it to be removed.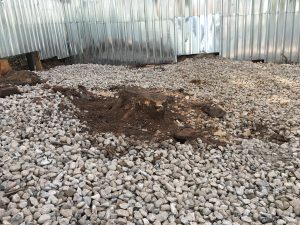 There is also a change that the ground around the stump can be disrupted. This is due to the tree roots that are in the ground. Our tree professionals can't see through the floor, so it is difficult to know what is beneath. No matter what, we promise to have it completed removed.
A stump grinder is a machines with strong, thick metal blades. It is operated by a professional. We do not advise anyone to rent a machine to try and remove a stump themselves. It can be very dangerous and can result in an injury.
After a tree is removed we offer our clients a special quote for the stump grinding. As it is not included in the cost of tree removal.
For any questions related to stump grinding and the process, please call 929-297-0596.